Herb and Spice Tea Recipes For Your
Health, Vitality & Well-being
This collection of homemade herb and spice tea recipes only use common herbs and spices you'll find in any well stocked cupboard or growing in any decent herb garden. They are very easy-to-make, have bags of taste and flavour and each one comes with many unique health and well-being benefits!
 Click the Thumbnail Images below for all your favourite herbal and spice tea recipes.
Collection of Herb and Spiced Tea Recipes
Herbs and Spices and Their Uses
The health, well-being and vitality you get from spices and herbs has long been known about. For thousands of years, and still to this very day, numerous cultures and civilisations have been using them for their benefits.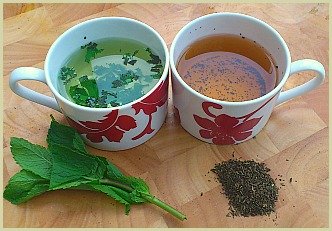 And in traditional medicine; one of the favourite ways of getting the most out of them is to make a tea or infusion from them.
New research is continually turning up uses for herbs and spices.
Including potential treatments and preventative properties for conditions ranging from colds and sore throats to alzheimers and cancer!
But don't think you have to be ill to get the most out of these drinks, it's well worth your time drinking a range of the above just because they are so darn tasty!
Image Links to Other Pages You May Like
Grow Your Own Herbs 
For the Healthiest Teas

A Range of Tasty 
Seasoning Recipes

Homemade Cooking 
Spice Collection
---
---