Cumin Seed - The Ancient Spice With Tons of Health Benefits & Tasty Cooking Uses
Cumin seed has been excavated from a site at Tell ed-Der in Syria that is at least 4000 years old! This demonstrates nicely that for a very long time ancient people were enjoying its benefits much as we do today. It's actually mentioned a couple of times in the Old and New Testaments of the bible.
See the bottom of the page or click the Thumbnail Images for detailed info on the seeds, health and culinary uses and some of the interesting history...
Facts and Info on Cumin Spice
History, Uses and General Info Today
Thousands of years ago the Egyptians were cultivating and using it for food and ceremonial practises. And in ancient Greek and Roman cultures, they too used it for rituals, traditional and medicinal purposes as well as a tasty addition to their cooking. Today it's grown in countries from Iran to Turkey, to India, China and North Africa to name just a few.
Blooming with pretty pinky white flowers, the cumin plant (Cuminum cyminum) is a smallish herbaceous annual plant generally growing to a height of between 25-40 cm and is a member of the parsley family.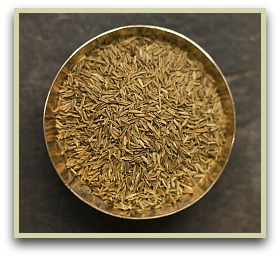 It's from this flowering plant that you get the versatile seeds which are an important ingredient in many kitchens throughout the world.
We mainly use whole or ground cumin seed for cooking and it works well in soups, stews, chilli con carne, curries and rice dishes and the like.
It is also an ingredient in many blends and mixes, and is a vital part of curry powders, masala blends, BBQ rubs and many others.
Interestingly, in certain countries, the seeds are used as a general condiment, the same way we use black peppercorns.



Click the Images to Other Pages You May Enjoy
Cardamom - Culinary Tips and Benefits of the




Queen of Spices

Saffron Crocus - Tips on Using and Growing

Turmeric - Info on the Healthiest Spice of




Them All!
---
---