A Little Bit About Me at Bespoke Spices.com
Welcome! I thought I'd tell you a little bit about me and why I started the Bespoke Spices.com website.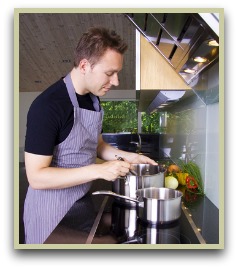 I'm Jason Pitcher and I love cooking, particularly cooking as cleanly and as naturally as possible.
To me cooking naturally means avoiding unnatural ingredients in my foods...
I really dislike eating chemicals, artificial colourings, preservatives and other nasty stuff you find in today's processed food.
Eating this way involves cooking completely from scratch, and making my own herb and spice blends was a logical step and something I really enjoy doing!
Why I Created This Site
There's something really enjoyable about growing herbs and spices, harvesting the leaves and seeds and drying or lightly toasting and grinding them before combining and creating great tasting spice blends.
I enjoy it so much, and because I have a ton of recipes, I thought I would share my recipes and knowledge and that's the reason Bespoke Spices came about.
Creating your own blends is easy and far superior in taste, colours and aromas to the commercial seasoning brands, and the difference it makes to your recipes is immense!
Gardening... Over the years with this desire to eat as naturally and cleanly as possible, came a strong interest in growing as much herbs, spices, fruit and vegetables as possible. And today I am continually expanding my range of homegrown produce.
If it were possible, I would grow absolutely everything from scratch and never buy from a store again. Obviously this is not always practical, so I always try and buy organic local produce when I can.
So, I hope you enjoy my site, and as this site is continually updated why not bookmark it, or subscribe to the RSS feed (top right) for automatic updates. Or better yet, join my new Facebook page.
If you're interested, I also have a brand new site focussed purely on making herb and spice blends Spice-Mixes.com.
How I Created This Site
After a couple of unsuccessful attempts at building websites with other well-known hosting companies, I finally discovered Solo Build It (SBI)
The SBI philosophy is building websites based on content and information first and earning money based on this relevant info.
A far cry from the numerous sharks and get rich quick charlatans that litter the internet!
Anyway, this video explains more about the company and their philosophy...
Leave the About Me page and return to the Home Page.
---
---