Rosemary Tea Recipe - Homemade,
Super Tasty and Very Healthy!
Out of all my spice and herbal drink recipes, rosemary tea is definitely one of my favourites! And if you use the fresh leaves, you only need a small amount for a healthy tasty cuppa. Like most other of my recipes, if you haven't fresh available, you can always use dried.
My preference has to be for fresh, and if you grow rosemary plants, easy to do incidentally, you'll always have some available. 
Rosemary Infusion Recipe
Ingredients: (makes 2 cups)
2 cups boiled water
2-3 tsp finely chopped leaves
Green teabag (optional)
OR
2 cups boiled water
1 tbsp dried herb
Green teabag (optional)
tbsp = tablespoon
tsp = teaspoon
Directions:
Fresh:
Add the chopped rosemary herb to a cup with the green teabag
Pour on the boiled water and let steep for 5 to 10 minutes
Remove the bag and enjoy!
If you chopped them finely enough, you can drink the fresh herbs without straining. If you prefer; you can pour into another cup through a strainer.
Dried:
Use as you would loose leaf leaves and add the dried herb to a teapot with the teabag
Pour in the boiled water and steep for 5-10 minutes
Pour through a strainer and serve
Here is a short slideshow of how I made this drink....



Rosemary Health Benefits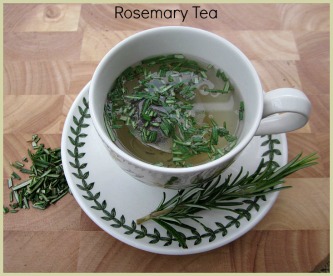 Like all herbs and spices, both dried and fresh, rosemary tea comes with a whole host of health benefits!
When you use it in your cooking, you'll get the tasty flavour, but in the process it may nullify some of the healthy goodness that comes with this herb.
But using in a drink, you get the well-being benefits and the flavour!
Click here to read more on the health benefits.
Note: To get the healthiest leaves for your drinks and culinary recipes, why not have a go at growing it? See detailed steps, tips and advice on how to grow this herb.


Image links to Other Recipes You May Enjoy!
Oregano Tea - Delicious
With Many Health
Benefits

Parsley Tea  - Light,
Refreshing and Very
Popular

All my Herbal Drinks
in One Place

Return to Rosemary Herb

Return to Home
---
---