Ginger Tea Recipe - Delicious,
Easy-to-Make and So Very Healthy!
Spice and herbal teas make a lovely change from a regular drink and a cup of fresh ginger tea is no exception! Not only do you get the light lovely flavour, there are also a ton of health and well-being benefits!
 Although both the fresh root and pre-ground powder contain a wealth of healthy goodness, I only use the root for my drinks.
Fresh Ginger Root Tea Recipe
Ingredients: (makes 2 cups)
2 cups water
½ inch (2cm) piece of root
½ tsp grated nutmeg
2 tbsp orange juice
Honey or agave nectar (optional)
Directions:
Thinly slice or grate the root and put in a saucepan with the water and add the nutmeg. Slowly bring to the *boil then turn down the heat and simmer for 2-3 minutes
Turn off the heat, add the orange juice and steep for 5 minutes
Pour through a strainer and enjoy!
Add some honey or agave if you like your drinks a bit sweeter.
*I don't boil the root for long as this can destroy the essential oils and therefore some of the benefits.
For one that uses peppermint and cinnamon, try this ginger tea recipe. 
Some of the Benefits of Ginger Tea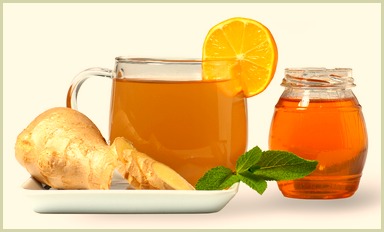 When doing research for this site I discovered a couple of very useful things...
...I knew about the benefits of adding herbs and spices to food to enhance the taste and flavour, but I was surprised by just how long that they have been used for health reasons...
For thousands of years folks have been making drinks with them. And you can be certain some culture somewhere will have a long tradition of brewing up a ginger infusion for a variety of illness and ailments.
Click here to read more on the health benefits.



Some More Spice and Herb Infusions You May Enjoy!
Crushed Fennel Seed Infusion - With Lemon
and Green Tea

Chai Masala - The Classic Indian Railway Beverage

All my Herbal Drinks


in One Place

Return to Ginger Root

Return to Home



---
---