Homemade Ginger Tea Recipe - Basic
Yet Healthy & Refreshing
This basic ginger tea recipe is so simple to make! Using the fresh root and a cup or two of water, it can be made in just minutes. It can be drunk as it is, and is very tasty, but if you do have a sweet tooth feel free to add a drop of honey, or as I prefer, some agave nectar.
For a slight variation of this spiced tea click here. And for another using the fresh root with cinnamon and lemon you may enjoy this recipe for ginger root tea.
Recipe For Ginger Root Tea
Ingredients: (makes 1 cup of ginger tea)
1 cup water
½ inch (2cm) piece ginger root (sliced or grated)
Drop of honey or agave nectar (optional)
tbsp = tablespoon
tsp = teaspoon
Directions:
Add the water and sliced or grated root to a saucepan and bring to the boil. Turn down the heat and simmer for 3-4 minutes. Turn off the heat and let sit for another few minutes.
Sweeten if needed and enjoy!
Click here to go to the main spiced tea page.
Here's a short slideshow of how I made this drink...



Ginger Health Benefits
Even though this is a basic ginger tea recipe, it does come with quite a few health and well-being uses...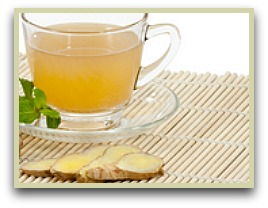 Add honey and lemon, and it can help ease the symptoms of colds and flu.
And traditionally, it's long been used as a cure for upset stomachs and heartburn.
For centuries, and still to this day, sailors and fishermen in the Far East used it to prevent against sea sickness.
Interestingly, the popular TV show Mythbusters tested its effectiveness against seasickness and found it to be true.
Click here to read more on the many health benefits of this tasty spice!


Links to Other Spiced Tea Recipes
Return to Ginger Root

Return to Home
---
---