All You Need To Know About the Expensive, Exotic and Enigmatic Saffron Crocus
It takes 50-75000 saffron crocus (Crocus sativus) plants growing in a football sized field to produce a single pound of saffron threads!
The harvest season only lasts for 2 weeks and each flower which contains only 3 threads (stigmas) has to be hand-picked. This, labour intensive, back-breaking work is the reason that, pound for pound, this spice is the world's costliest.
Click the Thumbnail Images below and find out about how to use it, the history, the many health benefits and all round general info.
More Info on the Delightful Saffron Crocus

A Few Final Notes
The first recorded mention of the saffron crocus can be found in an Assyrian botanical text which dates back to the 7th century BC!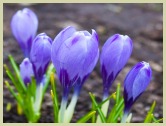 Alexander the Great used it to cure his battle wounds. Cleopatra bathed in water infused with the threads and there are mentions of its use in Ancient Chinese texts.
Native to Central Asia, today the perennial plants are grown and cultivated around the world from India to Mexico to Spain. The main producer, however, is Iran which produces approximately 90 per cent of the world's total supply.
Of course we appreciate its value when added to our food, but it's also famous for imbuing whatever it touches with a strong golden yellow colour. This staining ability makes it an excellent, if rather costly, dye.


Click the Images For Links to Other Pages You May Like
Cardamom Seeds - The Queen of Spices!

Ginger Root - Culinary
and Medicinal Uses

The Ancient Cumin Seeds - Facts and Info 
---
---