Tasty Homemade Fenugreek Tea With
Grated Nutmeg & Lemon
Brewing a cup of fenugreek tea is a good way of enjoying of what I think is an underused and unappreciated spice. Most people only get to taste it through its common useage in curry powders, garam masalas and other blends. Which is a bit of a shame as it's not only useful in a culinary sense, but also has a whole host of health benefits.


Note: If planning on making this spice tea I'd advise buying the whole seeds rather than the fenugreek powder and grinding them yourself. Once ground, it quickly loses its flavour and potency.
Easy Recipe For Fenugreek Tea
Ingredients: (makes 2 cups)
2 cups of water
2 tsps crushed or ground fenugreek seeds
½ tsp grated nutmeg (optional)
Squeeze of lemon juice
Agave nectar or honey (optional)
tsp = teaspoon
Directions:
Add the water, crushed or ground seeds and nutmeg to a small saucepan
On a low heat slowly bring the water to the boil
Simmer for 2-3 minutes, then turn off the heat, add the lemon juice if using, and let steep (sit) for 10- 15 minutes
At this point you can pour through a strainer and drink as it is (it will be luke warm), or you can reheat before straining. Add the honey/agave if using. Enjoy!
NOTE - Pregnant women are advised not to use this spice.
Click here to go to the main spiced tea page.


If you enjoyed this spiced tea, you may be interested in making others. If so, have a look at my herbal tea recipes book which is full of easy-to-make infusions and drinks.
Available as an e-book that you can download and start using immediately. Click for more information.
Health Benefits of Fenugreek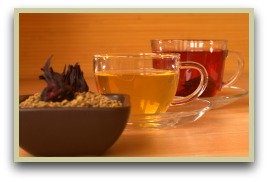 As I said above, drinking a cup of fenugreek tea is the perfect way of enjoying some of the many health and well-being benefits this under appreciated spice contains.
Studies have shown it can help lower cholesterol, stave off sore throat and cold viruses, improve digestion and even treat arthritis.
It has also been used to treat bronchitis, arthritis, maintain a healthy metabolism and improve digestion.
Links to More Tasty Tea Recipes
Return to Herbs and Spices home
---
---