Discover the Secrets of Creating Delicious Easy-to-Make Homemade Herb and Spice Blends in Just Minutes!
..And Take Your Cooking to a Tastier New Level...Today!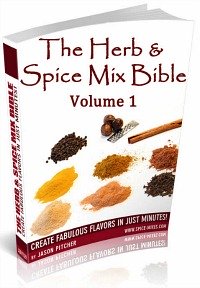 From the Desk of: Jason Pitcher
Dear Fellow Food Lover Would You Like to...
Learn how to create fabulous herb and spice blends from all around the world including Europe, Africa, America and Asia


Discover how to toast whole spices to release their essential oils and greatly intensify the flavours and aromas


Find out how to use your coffee grinder or mortar and pestle to grind spices for the ultimate in fresh taste


Grow your own herbs and spices for absolute freshness and health


Use herbs and spices to make delicious, healthy drinks and infusions


Making your own spice and herb blends is highly recommended and is guaranteed to enhance the taste, flavours and aromas of all your home cooking! It's also a simple process and can be done in less time than a trip to the store to buy a commercial brand takes.

Marie Stubbs - Author of "Ahead Of The Class"

"I enjoyed the homemade seasonings and herb blend recipes in the Spice Mix Bible. I decided to buy it after buying and enjoying Jason's herbal tea book.
As I grow a lot of herbs and spices for use in my cooking already, I now have lots of ideas for interesting spice blends to try out".
www.MarieStubbs.net


Here is Just a Taster of What You Will Find
in the Herb & Spice Mix Bible
There are 50 recipes for homemade spice blends in the Herb & Spice Mix Bible. And here are just a few examples of what you will find...
Homemade Chili Powder
Curry Powders
Chinese 5 Spice
Sausage and Corned Beef Spices
Creole and Cajun Blends
BBQ Rubs
Italian and Greek Herb Seasonings
Pumpkin Spice and Pudding Spice

Pickling and Mulling Mixes
And Many More!
Only $7! -
With 4 Bonuses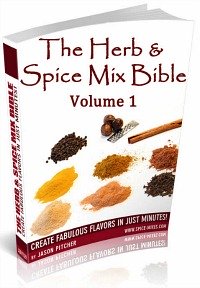 Jennifer Maclean - Journalist and Freelance Writer (Toronto)
"The Spice and Herb Bible is the go-to book in my kitchen. Jason has hit the nail on the head about how toasting and blending your own spice mixes makes all the difference!

A dear friend introduced me to her Indian spice mixes a few years ago, and I couldn't believe how much more fragrant and tasty the spices were than what I had been buying pre-made in a bottle.

Now, thanks to Jason, I have an easy reference book on how to make my own spice blends. He's also thrown in some tasty recipes to try. His Barbecue Sauce recipe is simply the best I've ever tasted and I will never use store-bought barbecue sauce again! "

Get 4 Bonus Books When You Order Today!
If you order The Herb and Spice Mix Bible you will also receive 4 bonus books all written by me for FREE. So order today in order to claim your 4 bonuses!
Bonus #1: The Herbal Tea Recipes Book
There are 30 recipes in my herbal tea recipes book. Most of them using everyday spices and herbs to create tasty healthy drinks and infusions. And you'll find recipes for...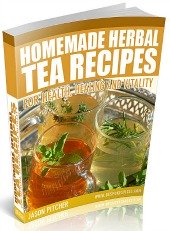 Healthy Sage, Basil and Parsley Tea

Refreshing Ginger Root Tea

Chamomile and Star Anise

Lemon Verbena and Ginger

Chai Masala - The Classic Indian Railway Tea

Saffron and Green Tea

Teas Made With Super Healthy Cardamom, Clove and Turmeric

And More!
Bonus #2:

The Essential Guide To Growing Herbs
If you're reading this page then, like me, I guess you are into cooking as clean and as naturally as possible? If so, there is no better guarantee of clean and natural food for you and your family than growing herbs and spices without chemicals and pesticides.
In the "Essential Guide To Growing Herbs" You'll find detailed tips and advice on...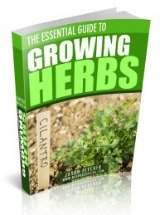 How to grow herbs like basil, parsley, cilantro and dill and harvest the leaves and seeds for use in your recipes

How to grow herbs in containers and pots

How to grow from seeds, cuttings and root division

How to treat pests and diseases

Tips on growing the tropical ginger root for a year round supply
Bonus #3: The Essential Guide To Vitamins
This book explores what vitamins are, what food we can obtain them from and the consequences of becoming vitamin deficient. And goes into detail about...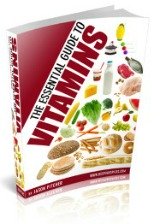 What are the daily requirements for adult men and women

What food we can obtain them from

The consequences of becoming vitamin deficient

Information on vitamins A, C, D, E and K

Facts on the vitamin B group
Bonus #4:

30 Homemade Pumpkin Recipes
I love pumpkin and grow and eat it all year round and not just at Thanksgiving. In this digital book you will get my 30 favourite sweet and savoury pumpkin recipes; including...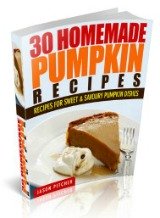 Recipes for pumpkin pie and cheesecake

Pumpkin muffins and cookies

Pumpkin coffee and smoothie recipes

Pumpkin starters, main courses, desserts and beverages

Pumpkin soup, pumpkin curry, pumpkin bread recipes

And many more
Each of the above bonuses will be made immediately available for download when you secure your copy of the Herb and Spice Mix Bible today.


Unconditional 60 Days Money
Back Guarantee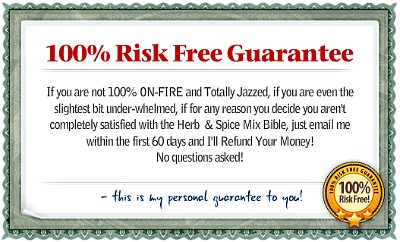 You have nothing to lose and lots to gain when buying "The Herb and Spice Mix Bible". I am so confident with my product that I am giving you a 60 day money back, no questions asked, guarantee!
You get instant downloadable access and you can start working on your spice and herb blends in just minutes from now.
Only $7! -
With 4 Bonuses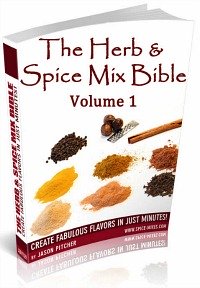 Download your copy now, and start your journey towards creating wonderful herb and spice blends for fabulous tasting food.
Please Note: The eBook and bonuses are in PDF format and will not be physically shipped. They are delivered as PDF files meaning you can read them on your PC OR Mac. Or if you prefer you can print them out and read them at your leisure!
Your order is processed with a safe and secure transaction and you will have instant access after our merchant approves your transaction.


---

PS. If you want to get this book for only $3, click here.

PPS. If you have any questions about the spice blends book or bonuses you can contact me here.

PPPS. Not ready to order?