The Cilantro Plant - Leaves, Seeds, Stems and Roots, You Can Use Them All!
Native to the Mediterranean and southwestern Asia, the cilantro plant (coriandrum satvium), is a member of the parsley family, and to the untrained eye looks very similar to flat leaf parsley.
Click the Thumbnail Images Below or see the bottom of the page for detailed info on this versatile herb...
All You Need to Know About Cilantro Herb
More Info on the Cilantro Plant
Originally native to the Mediterranean and southwestern Asia, it has been cultivated for over 3000 years, you'll even find mention of it in the Old Testament. The seeds were even found in the tomb of Tutankhamun!
It was first introduced to Northern Europe by the Romans who used it as a preservative by blending it with vinegar and ground cumin spice.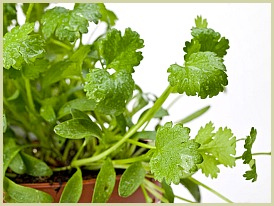 Today the plant is now cultivated and used in cooking throughout the world.
Unusually, as well as being a herb it's also a spice, the delicate fresh leaves are the cilantro part, and the seeds are known as coriander seeds.
It's definitely my favourite herb, and I don't think  a curry is just the same without adding a handful of freshly chopped leaves right at the end of cooking!
And it's these chopped fresh leaves that also give an enticing flavour to salsas, dips and relishes.
Whilst the leaves have a lemony aroma, the seeds have a warm pungent flavour. This pungency makes them ideal for use in numerous spice blends, mixes and rubs.



Image Links to Other Herb Plants You May Like
---
---