Ginger Root - Delicious Fresh, Dried,
Ground or Pickled!
Of all the world's many and varied spices, the delicious ginger root may be the most versatile, flavourful and widely used around the world today! Harvested from plants in the tropical Zingiberaceae family, most of the world's supply is grown in China, India, Indonesia and Nepal.
The number of ways in which you can use this ingredient in your home cooking is huge! And let's not forget, all the health and well-being uses...
Click  the Thumbnail Images,  or see the bottom of the page, for more on the health benefits, plant info and tips on growing and using in your home cooking.
Ginger Root - Super Tasty and Very Healthy!
Ginger Tea With
Nutmeg and Orange

An Infusion With
Cinnamon and Mint

Basic Recipe Using
Just the Root
Using the Fresh and Ground Ginger Root
There are multiple ways of using the root. You can use it fresh or dried, pickled or crystallized and ground or candied.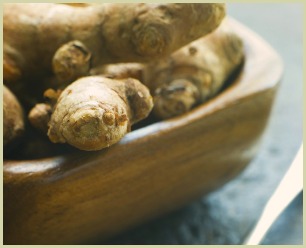 And you'll find it used in starters and appetizers, main courses, desserts and puddings.
When cooking, I usually just use the fresh root or ground powder. Fresh is excellent in most curries and stir fry recipes and I nearly always use the ground powder in my curry powders and masala blends.
As I mentioned above, as tasty as this spice is, there are also numerous health benefits, which is another excellent reason to get more of it into your diet. 

Note: If you're feeling adventurous and live in the right climate, you could always have a go at growing it yourself. Click here for step-by-step tips on this.



Other Spices You May Like to Read About
Everything You Wanted to Know About Paprika 

The Uses and Benefits


of Cinnamon

Cumin

 - The Ancient Seeds With Tons of Health Benefits
---
---