The Many Benefits of Turmeric - From Cooking to Cancer Cure to Dyeing Monks Robes!
In the culinary world the many benefits of turmeric are well known. Cooks have been adding the fresh root or ground powder to food for thousands of years! Today you'll find it used in lots of food ranging from curries to yoghurt, cheeses to pickles and chutneys to name just a few.
Ever wondered how the yellow mustard which hotdog vendors use gets its distinct colouring? That's from ground turmeric powder, which also makes an excellent base for many a curry powder, masala blend and numerous other mixes and seasonings.
Click on the Thumbnail Images below to find out much more about the health benefits, tips on using it in your cookings, a bit of history and general info on this potent ingredient.
More Turmeric Benefits
Why You Should Be Using Turmeric Spice!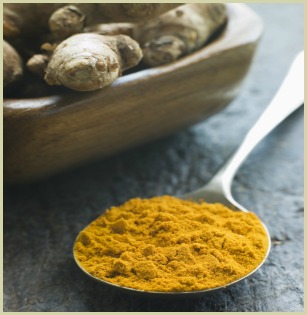 Its excellent staining ability means it has been used as a dye for centuries, and even today it's still used in the textile industry. Just try and not get any on your clothes when cooking with it, it's tough to shift!
Health Uses...
Due to its potent ingredient curcumin, it's long been used for health and well-being purposes and is a medicinal marvel, with current studies discovering new health benefits of turmeric all the time.
These range from disinfecting cuts and burns to potential treatments for Alzheimer's, malaria and arthritis. See the links above for more on the medicinal benefits.
One slightly unusual way of getting more of this ingredient is to use it to make a super healthy drink. See recipe above.
So, with all its well-being and therapeutic qualities, this is definitely one ingredient that deserves to be called a Super Spice! 



Image Links to Other Spices You May Like to Read About
Cardamom

 - Facts and
Tips on Using the
Queen of Spices

Cloves

 - Great in Desserts With Many Health Uses

Paprika

 - All You Need to Know About This
Hungarian Treasure
---
---