Saigon Cinnamon - Possibly the Tastiest Variety of Them All!
Saigon cinnamon is known by its Latin name cinnamomum loureiroi and by its Vietnamese name Quế Thanh. It comes from a Vietnamese evergreen tree from the cinnamomum family that grows widely around South East Asia.
It's grown mostly in Vietnam and exported from there around the world. Interestingly enough, despite the name, it does not grow in the Saigon area, but in the central mountainous areas of Vietnam.
Info on the History and Many Uses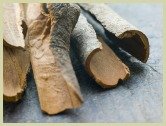 Harvested from the inner bark of the cinnamon tree, this delightful spice has many uses from flavouring both sweet and savoury foods to aromatherapy to helping the body heal many ailments.
One might assume there is just one kind, but in truth there are a few interesting varieties, all offering unique flavours and benefits...
There is what we call "true" cinnamon, this is the softer sweeter type that goes so well with your desserts and cookies.
This is also known as bakers, soft stick and Ceylon. Then there is cassia to which Saigon cinnamon belongs.
The Differences
The difference between this and other varieties is noticeable right away, the scent is distinctly stronger and more complex. The flavour is also richer and more nuanced.
Often people who try Saigon cinnamon swear they will not go back to the other types, claiming they now seem somewhat bland in comparison.
This type, also called Vietnamese cinnamon, has the highest concentration of cinnamaldehyde in its essential oils, which makes it the most sought after and most expensive variety of cinnamon. Read more on the essential oils.
History...
Its use dates back to ancient Egyptian times and it's mentioned in the Bible several times. At times in human history, it was so highly valued that it was reserved for kings and for gifts for the gods!
And there are numerous accounts of wars, invasions and bloodshed over who got control of the supply. More on the history.
When Vietnam was embroiled in its tragic civil war, the global production of Saigon cinnamon came to a halt.
Since the turn of this century however, the country has started cultivating and exporting the spice again, much to the delight of its many proponents.
Culinary Uses...
It has been in use for centuries in South-eastern Asia and is a key ingredient in the famous Vietnamese soup known as phở.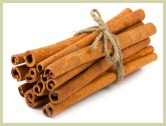 It is more expensive, that is certain. However, due to the strong flavour and aroma, you will find that you can use less of it and still get better results in your baking and cooking.
In fact, it's wise to use sparingly, especially when you are using it for the first time as you may not realize what a burst of flavour it can offer.
You can often buy in sticks, broken bark or in ground form, and some people are even known to use the broken bark pieces to freshen their breath like a mint!
So why not soak the sticks in your tea, sprinkle some on your raisin toast in the morning or use it to flavour your stews, soups and muffins? Try a little Saigon cinnamon and you may find the other varieties start to pale in comparison!



Image Links to Other Pages You May Like
Ginger

 - Delicious in Sweet and  Savoury Recipes

Uses of Cloves

 - Great
in Your Puddings and Healthy Too 

Uses and Varieties of Paprika Peppers

Return to Benefits of Cinnamon
---
---