Discover the Secrets of Creating Delicious Easy-to-Make Homemade Herb and Spice Mixes in Just Minutes!
Learn how to create fabulous herb and spice mixes from all around the world including Europe, Africa, America and Asia and add mouthwatering flavours and sublime aromas to your home cooking.


From the Desk of: Jason Pitcher
Dear Fellow Food Lover, below is my recipe book showing you how to create and replicate the fabulous flavours and aromas from cultures and cuisines from all around the world.
The book also shows you step-by-step instructions on how to toast and grind whole spices and combine with pre-ground powders to replicate traditional and authentic tasting recipes.
Only $3! For 50 Recipes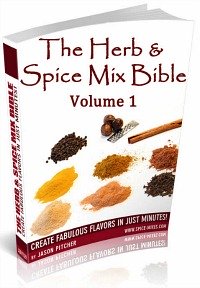 List of Recipes You'll Find in the Book
Worldwide Blends
Quatre-Epices
Khmeli-Suneli
Jerk Seasoning
Baharat
Ras el Hanout Recipe
Tandoori Masala Powder
Sambhar Powder
Berbere
Italian Seasoning Recipe
Greek Seasoning Recipe 1
Greek Seasoning Recipe 2
Corned Beef Spices
Fines Herbes
Gomashio
Seven Spice Mixture - Shichimi tōgarashi
Mulling Spices Recipe
Traditional Glogg Recipe
Pickling Spices
Fire Up The Barbecue!
Barbecue Chicken Rub Recipe
Carolina Style Barbecue Dry Rub Recipe
All-Purpose Barbecue Rub Recipe
BBQ Dry Rub – Good For Beef
BBQ Rub Recipes & BBQ Marinade Recipe
Recipe For Barbecue Sauce
Rib Rub Recipe - The Perfect Dry Rub For Ribs
Brisket Rub - For Your Beef & Veal Brisket
For Your Cookies, Pies and Desserts
Pumpkin Spice 1
Pumpkin Pie Spice 2
Pumpkin Pie Spice 3
Mixed Pudding Spice
Hot and Spicy Blends
Curry Flavoured Popcorn Seasoning
Homemade Chili Powder Recipe
Ancho Chili Powder
Mild Curry Powder Recipe
Hot Curry Powder Recipe
Jamaican Curry Powder Recipe - Taste The Caribbean!
Garam Masala 1
Garam Masala 2
Chinese 5 Spice Recipe 1
Chinese Five Spice Powder 2

Home Cooking Spice Mixes
Sausage Spices
Steak Rub Recipe
Creole Seasoning Recipe
Old Bay Seasoning Recipe
A Herby Taco Seasoning Mix Recipe
Louisiana Inspired Cajun Seasoning Recipe
Cajun Spice Recipe
Poultry Seasoning Recipe
Deep Fried Turkey Seasoning
Homemade Mustard Rub
Spice Salt
Only $3

For All These Recipes!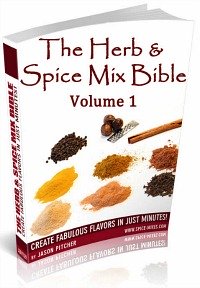 Unconditional 60 Days Money
Back Guarantee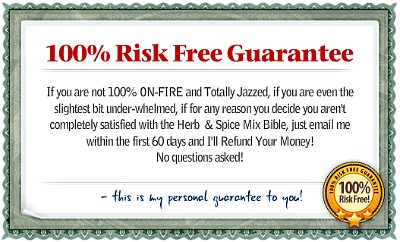 You have nothing to lose when buying "The Herb and Spice Mix Bible". I am so confident with my product that I am giving you a 60 day money back guarantee!
Download your copy now, and start your journey towards creating wonderful herb and spice blends for fabulous tasting food.
Please Note: The eBook and bonuses are in PDF format and will not be physically shipped. They are delivered as PDF files meaning you can read them on your PC OR Mac. Or if you prefer you can print them out and read them at your leisure!
Your order is processed with a safe and secure transaction and you will have instant access after our merchant approves your transaction.


---

PS. You can also get the Herb and Spice Mix Bible with 4 bonus books by clicking here.

PPS. If you have any questions about the book you can contact me here.
PPPS. Not ready to order?