Glogg Recipe - The Traditional Christmas Drink of Scandinavia
This glogg recipe is a spiced wine often drank throughout Scandinavia with countries like Sweden, Norway, Denmark and Finland having their own variations. Many countries, particularly Europe, have their own versions of mulled wines traditionally drunk around the holidays.

Glühwein is the spiced wine of choice in Germany and Holland. Whilst in the Czech Republic they enjoy svařené víno and the Hungarians drink forralt bor.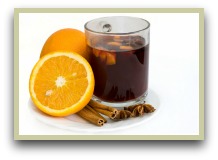 All variations are based on warm or hot wine and usually share the common wine spices...
...cloves, cinnamon, nutmeg, star anise etc, but usually with a traditional twist.
A good example is izvar, the Moldovan mulled wine, which has added honey and black pepper, which sounds intriguing!

Glogg Recipe Spices
Ingredients: (makes about 4 tbsp of glogg spices)
10 white cardamom pods (green otherwise)
3 inch piece cinnamon (broken up)
8-10 cloves
1 tbsp fennel seeds
1 tbsp juniper seeds

tbsp = tablespoon
tsp = teaspoon
Directions:
Combine all the ingredients together and store in an airtight jar out of sunlight. That's it! Super simple.
Click for another traditional mulling mix recipe.
Glogg Mulled Wine Recipe
Now you've made the mix, why not try the traditional wine?
Ingredients:
1 bottle red wine (750ml)
2 tbsp grated fresh ginger
¼ cup raisins
Zest of 1 orange
Chopped fruit
2-3 tbsp glogg spices (see above)
Optional vodka (as much or as little as you like)
Add the glogg mix to a muslin bag or square of cheesecloth and tie the corners together
Bash the parcel to crack the pods and bruise the seeds and release the flavours
Heat the wine to a simmer and add the orange, ginger, fruit, parcel and the vodka if using
Simmer for 25-30 minutes and then let infuse for another 30 minutes
Reheat and then you can use a slotted spoon or pour through a strainer to remove the fruit and glogg parcel. I often drink it with the fruit still in.



Mulling and Pickling Recipes You May Enjoy
Return to Cooking Spices

Return to Home


---
---