Mulled Wine Recipes - How to Make Traditional Spiced Wine
With these homemade mulled wine recipes you can have delicious hot spiced wine whenever you fancy it. Mention mulled wine and it brings to mind memories of Christmas pasts, roaring fires and Dickens novels.
Mulling Spices Mix: I use 2 tablespoons of spices per bottle. Below is enough for 2 bottles. If you only want enough for a single bottle, reduce the spice quantities accordingly.
Traditional Mulled Wine Recipe
Ingredients: (makes about 4 tbsp of mulled wine mix)
2 bottles red wine (750ml)
1 tbsp star anise (cracked)
1 tbsp allspice berries
10 green cardamom pods (cracked)
1 tbsp grated fresh ginger
5 cloves
3 inch cinnamon stick (broken up)
Zest of ½ an orange
¼ tsp brown sugar (optional)
tbsp = tablespoon
tsp = teaspoon
Directions:
Add all the dry spices to a square of cheesecloth. Gather the corners and tie so you end up with a parcel.
In a saucepan heat your wine to a simmer. Add the spice parcel, ginger and orange and simmer for 25-30 minutes. With a slotted spoon remove the spices and ginger. Serve hot or warm and enjoy!
Traditional Homemade Glogg Recipe
Authentic glögg uses white cardamom pods, but if these aren't available you can substitute with green cardamom pods.
Ingredients: (makes about 8 tbsp)
1 bottle red wine (750ml)
10 white cardamom pods (green otherwise)
3 inch piece cinnamon (broken up)
2 tbsp grated fresh ginger
1 tbsp fennel seeds
1 tbsp juniper seeds
¼ cup raisins
Zest of 1 orange
8-10 cloves
Other bits of chopped fruit
Vodka - as much as you want (optional)
tbsp = tablespoon
tsp = teaspoon
Directions:
Add 2 tbsp of the dry spices to a square of cheesecloth and tie the corners together.
Heat the wine to a simmer and add the spice parcel with the orange, ginger, any chopped fruit and, if using, the vodka.
Simmer for 20-25 minutes and then turn off the heat and let infuse for another 30 minutes. Use a slotted spoon to remove the fruit and spices. Reheat before serving.

Mulled Wine Recipes From Europe
But it's not just in the English speaking world that spiced wine is popular and drunk around holidays and Christmas...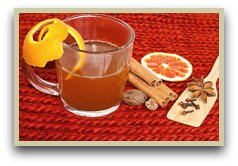 Throughout the world, particularly Europe, many countries have their own version of mulled wine recipes.
A traditional Swedish drink is the superbly named Glögg! Recipe above.
In Germany, Holland and some parts of France, glühwein is the traditional spiced wine of choice.
Some other traditional mulled wines...
Forralt bor (Hungary)
Vin fiert (Romania)
Karstvīns (Latvia)
Vin brulé (Italy)
And there are many more, with hot or warm red wine being the common ingredient in all.


Links to More Mixes and Blends
Return to Cooking Spices

Return to Herbs and Spices home

---
---