The Many Health Benefits of Cloves
and Clove Essential Oil
The health benefits of cloves and its oil have been known and utilised for thousands of years. They were important in ancient Chinese and Indian medicine, and are still used today in a number of ways.
Medicinally you can use them in a couple of ways; either using the powdered form or the extracted oil of clove.
The Benefits of Cloves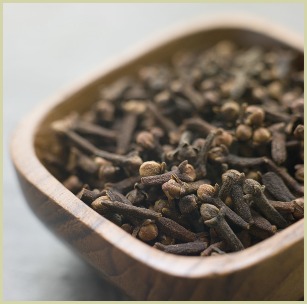 In Ayurvedic medicine, Indian doctors also used it for digestion, and to ease breathing problems.
Some African healers utilise the benefits of cloves by diluting them in water to treat nausea and diarrhoea.
In ancient Chinese medicine, they were used to ease digestive problems, as well as to treat fungal infections. 
This extract can come in the form of an infusion, lozenge or mouthwash.
Another way to enjoy the benefits is to make a potent, warming tea from them. Click here for my recipe.
Uses of Clove Oil...
The active ingredients in this spice are the eugenol and caryophyllene. Eugenol has strong antiseptic and analgesic properties, and is strong enough to be used as a treatment for toothache
Caryophyllene is the same substance that gives black pepper its spicy bite, and it has a strong anti-inflammatory property
It's used to treat strep throat and pneumonia
Numerous studies have proven the benefit of this spice in treating dental pain
It's also used in a number of aromatherapy treatments, especially to treat problems with digestion
It can also be used to treat skin problems, such as acne, and it can help ease burns and irritations
And has also been used to reduce fever, to regulate blood sugar levels and even to repel mosquitoes!
Getting the Best Out of Them...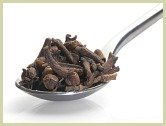 But remember, no matter how you use them, either for cooking or for the health benefits, if you want to get the best out of them, keep them in a dark cool place out of direct sunlight.
Whole cloves will retain their flavour much longer than the pre-ground powder.
If you need the powder for your recipes, it's so much better if you buy whole and grind them in your coffee mill before use. Read more about the uses.



Links to Other Benefits of Spices You May Enjoy
Basil - The Popular Herb With Many Health Benefits

Ginger Root - Culinary
and Health Uses

Turmeric - The Healthiest Spice in the World!
---
---