Turmeric Spice - Great in Food With Many Uses, Just Don't Get It On Your Clothes!
Also known as Indian saffron, today the turmeric spice (curcuma longa) is cultivated in places ranging from Pacific Islands to the Caribbean to South America and, of course, all through Asia.
The turmeric roots (rhizomes) grow underground and, once ready, are dug up and can either be used fresh as they are, or boiled before being sun-dried and then ground into the powder that is a favourite in kitchens worldwide.
The Cooking & Colouring Benefits of Turmeric Spice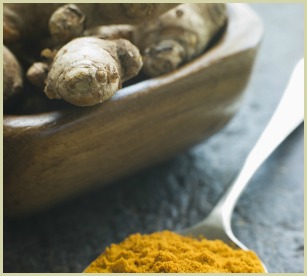 Note: If you can't get hold of the fresh root you can buy it dried, but unless you have an industrial powered grinder this is definitely one to buy pre-ground!
When the root - rhizome - dries, it becomes as hard as granite and can easily snap the blades on the average coffee grinder like dried twigs!
A quality commercial ground turmeric powder will suffice if needed in your cooking.
If you don't know what fresh turmeric looks like, think ginger but with a darker skin, so it's no surprise they belong to the same family.
Facts About Turmeric Spice
You use the fresh root in your cooking, the same way you would use ginger root. Read more about the plant.
The leaves are also edible...
In Malaysia they are simmered and used in Nyonya cooking, whilst in Thailand they like to boil the tender young shoots.
Using as a Powder...
But more commonly you'll probably use the pre-ground powder as a base to build from, or for adding to your homemade blends and mixes. 
The mustard every hotdog vendor seems to use gets its distinctive yellow colouring from the ground powder. Likewise many pickles, chutneys and a even a few cheeses and yoghurts.
Here's a valuable tip if you've never used it before, don't wear white or light coloured clothing! Get some on your clothes and it's really difficult - if not impossible - to get out!
But, conversely, it's this staining ability that makes it so useful and sought after in the textile and food colouring industries. Monks robes and Saris - an Indian female garment - are often dyed with turmeric spice.



The Health Benefits of Turmeric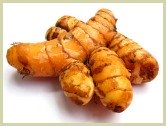 It's not only great in your cooking and for dyeing clothes though. Recent medical studies have turned up a whole host of health uses.
Click to read more about the numerous turmeric benefits.
A great way of getting some more of this healthy ingredient in your daily diet is to brew a healthy, very potent drink out of the ground root.
See my turmeric tea recipe for easy instructions.
Links to Other Spices You May Enjoy
Uses and Benefits
of Saffron

Cloves - Great in Desserts With Many Health Uses

Cumin - History and Tips
on Using the Ancient Seeds 
Return to Benefits of Turmeric
---
---