The Exotic Saffron Spice - The Most Expensive Ingredient In The World!
Saffron spice is prized around the world for its distinctive flavour, health benefits and vibrant golden colour and is the world's most expensive spice!
It's far too delicate to be harvested by machines, so as has been the case for thousands of years, it has to be hand-picked.
Growing and Culinary Uses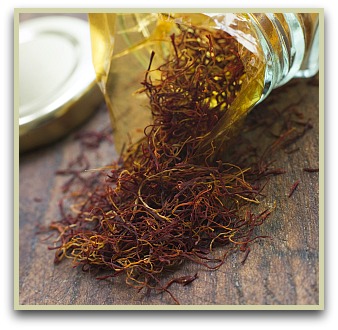 And with only three thin saffron strands available in each small flower, and bearing in mind that it takes up to 75,000 flowers to produce just a single pound, it's easy to see why it's so pricey!
Native to Southwest Asia, the use of saffron slowly spread along the spice routes into Europe, China and India where it has been grown, harvested and used for millennia as a flavouring, a dye and for its many health benefits.
One of the first references can be found in an ancient Assyrian text dating back to the 7th century BC!
Click to read more on the interesting history of saffron.
Thinking About Growing Your Own Saffron Spice?
It is possible to grow your own saffron plants. They enjoy full sun with a rich, drained soil, and prefer a sheltered location out of the wind.
Personally if I was to grow it, it would be just for show, the time, effort and amount of plants needed to get even a tiny amount of threads, only 3 per flower, just doesn't seem worth it.
As much as I prefer growing my own herbs, this is one I'll leave to the professional growers!
Health Benefits and Culinary Uses of Saffron Spice
The benefits of saffron and its extract have been known for thousands of years...
...The ancient Persians used it to treat stomach problems, while in traditional Chinese medicine it was used to improve blood circulation and to treat bruising.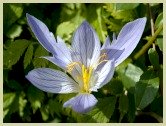 The Persians also wove the saffron threads into fabrics, and used its excellent staining qualities and scent for dyes and perfumes. Read more on the uses and benefits of the flowers extract.
Uses in the kitchen...
When it comes to cooking, this is a key ingredient in lots of traditional dishes. You'll find it in the delicious Spanish paella, Indian pilau, risotto Milanese. You can get some recipe ideas here.
It is also widely used in Persian, Indian, Turkish and Central Asian cuisines.
You can use the much cheaper turmeric as a saffron substitute in any of these dishes, but it will not replicate the fresh flavour.



Image Links to Pages You May Enjoy
Turmeric - The Healthiest Ingredient of All!

Cloves - Culinary Uses
and Benefits of This
Potent Spice

Cardamom - All You
Need to Know About the Queen of Spices!
---
---