How to Grow Dill For the Freshest,
Tastiest Leaves and Seeds
With this step-by-step guide about how to grow dill you can have a regular supply of fresh dill leaves and seeds for use in your recipes. This versatile herb is particularly good in salads and complements fish nicely. 
It also is good for making dressings, vinegars and works particularly well when making homemade pickling spices.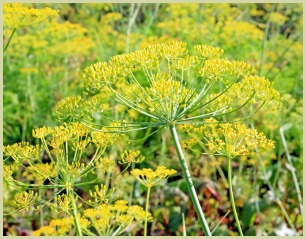 General Notes... 
If you grow fennel as well, keep the two herbs well separated to prevent cross pollination.
Dill plants enjoy well-drained, poor soil in full sunlight but must be kept well watered to prevent them getting straggly and weak.
You can sow straight in the ground after the last frost or indoors, and they are very happy in containers.
Step-by-Step-Tips on Growing Dill
Sowing Indoors:
In spring fill plugs or pots (not trays) with general potting compost and place 4-5 seeds in each. Cover with ¼ inch (1cm) of compost
Water and ensure the temperature is about 15-20°C (60-68°F). In 2-3 weeks the seeds will germinate
Once germinated follow instructions below
How to Grow Dill Herb Outdoors:
After the date of the last frost, plant out any seedlings you may have sown earlier 8-9 inches (20-23cm) apart.
Thinly sow dill seeds into shallow drills which are 18-24 inches (45-60cm) apart in the prepared bed. Water
After a few weeks and when the seedlings have germinated and large enough to handle thin them to 8-9 inches (20-23cm) apart
Keep the soil moist and you start snipping the young leaves once the plants have reached 8 inches (20cm). Snip a few from each young plant
Once they are taller it may be necessary to support them with twigs or stakes
Water regularly, especially in very hot weather
As they are fast growing make regular sowings every 6-8 weeks for a continuous supply
Container Herb Gardening & Pests:
Fill a container or pot with general potting compost and scatter over the dill seeds. Cover with ¼ (1cm) inch of compost and water.
In 8 weeks harvest the young leaves. Make successive sowings 6-8 weeks apart.
Remove slugs and caterpillars by hand.
Harvesting the Dill Weed:
Once the plant has flowered, chop and gather 5-6 flower heads. Cover the heads with a paper bag and seal with an elastic band. Hang upside down in a warm, dry place for 7-10 days. Rub with your fingers and the seeds will drop off.
Store these in an airtight jar.



Links to Other Guides to Growing Herbs
---
---