How to Grow Rosemary Plants For the Freshest Aromatic Leaves
Knowing how to grow rosemary plants means a fresh supply of this most aromatic herb all throughout the year as it doesn't mind the cold and will supply leaves over the winter months.
And you can dry the leaves, which unlike certain herbs, retain their flavours and taste once dried.
Tips on How to Grow Rosemary Herb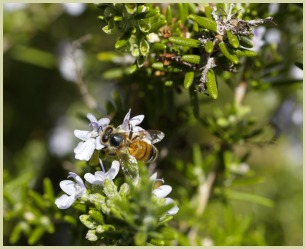 Favoured in kitchens throughout the world, it has numerous uses and combines beautifully with lamb, fish, potato dishes, casseroles, salads and oils and vinegars.

General Growing Notes...
Most varieties of rosemary herb are hardy perennials which enjoy a sunny sheltered position in well-drained soil. It will also tolerate partial shade.
You can grow it from seed but this does take a bit of care and attention.
I prefer to grow it from cuttings. Also young purchased plants are ideal and probably the easiest and fastest method. Read more about the plants.
Growing Rosemary Plants From Cuttings:
In spring cut off a 3-4 inch (8-10cm) piece from a new growth and cut off the lowest leaves
Place in a glass of water and in about 3 weeks, roots should form. A temperature of 15C (59F) or above is required.
Once the roots have formed, plant in a pot filled with general potting compost. Water
When the last frost date has passed, plant the rosemary plants in a prepared bed 24 to 30 inches (60-75cm) apart. It grows best if it gets 6-8 hours of sunlight
Water regularly, yet sparingly and don't over-water
It doesn't require any extra food, but you can give it a liquid plant feed after it's flowered if you like
How to Grow Rosemary in Containers:
Fill a large container with sharp sand and general potting compost and plant 2-3 cuttings. Don't over-water.
Place your pots or containers in a sunny spot or even grow on a sunny windowsill and you'll get a nice harvest.
Harvesting Rosemary:
As it's an evergreen, you can pick the young leaves all year round. Having a few plants will ensure you don't overpick.
Pests and Disease:
Nothing to worry about here.
Click here to return to the main how to grow herbs page.



Image Links to Other How to Grow Herb Guides
| | | |
| --- | --- | --- |
| How to Grow Dill For the Leaves and Seeds | Growing Chive Plants - Probably the Easiest of All | Mint - Peppermint and Spearmint Are Popular |

Return to Rosemary Herb

Return to Home
---
---