Spice Up Your Grains With This
Saffron Rice Recipe
Whilst plain rice is perfectly acceptable to eat just as it is, this easy saffron rice recipe is perfect when you fancy something with a little more flavour. Not only does adding saffron spice improve the flavour and aroma, it also greatly improves its appearance. (see photo)
It really is simple to make, if you can make plain boiled rice then making this saffron rice recipe is no problem.
A Really Easy Saffron Rice Recipe
As the threads are added after it's cooked, you need to cook some plain rice first. This is how I make mine, you can cook yours anyway you prefer.
Ingredients: (for 2-3 servings)
1½ cups rice
3 cups water
1 teaspoon salt
Cooking Directions:
In a saucepan, bring the water to the boil and then add the rice and salt
Put the lid on and wait until the water comes back to the boil
Remove the lid and turn the heat down a bit
Stir now and again and once all the water is absorbed (12-15 minutes) taste a few grains. If the grains are not brittle and have a "good bite", they're ready
And now for the saffron part...
Warm 3-4 tablespoons of milk in a pan. Do not boil
Take off the heat and add ½ tsp saffron strands
Leave for a few minutes then press the strands to draw out their colour
Pour over the warming rice and mix well just before serving
Enjoy! You can also use this method with other grains like cous cous, quinoa and bulger wheat to name just a few.



General Recipe Information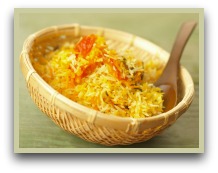 You'll find this ingredient in many famous dishes like Indian pilau, Spanish paella or Milanese risotto, to name a few.
There are actually two methods to colouring your rice recipes...
...You can use the cheaper turmeric spice or the much more expensive saffron threads.
If you use turmeric in your dish, it must be boiled in and depending on how much you use, the colour of your grains will range from pale yellow to orange.
But if it's glorious colour AND a delicate flavour you're after, then the threads are definitely the thing to use.
More Info About This Spice That You May Enjoy
Crocus Bulbs - Info on the history and uses of this exotic ingredient
Recipes - Suggestions and a spice mix recipe that uses saffron
---
---