Cardamom - The Fragrant, Alluring
"Queen of Spices"
You'll find mention of cardamom in historical Indian texts dating back more than 2000 years! This alluring spice is prized for it's flavour and pungent aroma. It's not known as the "The Queen of Spices" for nothing!
But it's much more than a food flavouring, it also has many health benefits and has been used in traditional medicine and ceremonial practices for centuries. Read more on the history.
Facts and General Information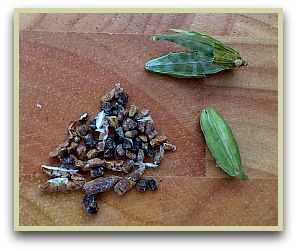 This versatile spice is equally at home in heavy, robust curries, a light rice dish, an ice cream sundae and even a tasty tea!
There are a few types that you'll find in stores, green and black being the main two that you'll use in your recipes.
There are a few other types, with Thai and white being ones you may come across.
I recommend buying the whole pods and not the ground stuff, as it quickly loses its flavour and potency.
So, best to buy whole pods and grind the seeds yourself.
Cooking and Culinary Uses
There are a number of ways of using when cooking: you can throw the whole pods in your dish, or, crack them first and add. This way, the little seeds will slowly dissolve leaving just the empty pods behind. This will give a lovely light flavour to your dishes.
This is my preferred way when making rice, grain and lentil/bean recipes. Don't forget to remove the husks at the end of cooking.
Also you can extract the seeds and use them whole, or grind them to make homemade blends and mixes.   
Green or Black Flavour?
This spice is a favourite in cultures and cuisines throughout the world with different countries favouring different varieties. And the most common are...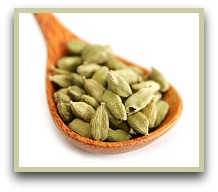 Green (Elleteria cardamomum) which is often used in the Middle East for flavouring sweets and desserts.
In Turkey it's used in regional blends, like zhug and baharat, and of course the super strong Turkish coffee.
In Asia, they are often used to lightly perfume rice and creamy dishes like kormas and various desserts. More on green cardamom.
Black (Afromomum Subulatum)
The mean looking black pods have much more potency and flavour than their green counterparts!
This strong flavour makes them ideal for your meaty curries and heavy stews as well as many spice blends.
Just half a teaspoon of the freshly ground seeds gives a unique flavour. More about the black variety.
---
---