Pumpkin Pie Recipes - Fabulous
Dessert All Year Round!
You can make my tasty pumpkin pie recipes all year round, not just on Thanksgiving! For ease and convenience the recipe below uses a bought, unbaked pastry shell.
Alternatively you could use the premade roll out pastry. You can of course make your own from scratch.
Super Tasty Homemade Pumpkin Pie Recipes
Note-- 1 cup = 16 tbsp, ¾ cup = 12 tablespoons, ½ cup = 8 tbsp and ¼ cup = 4 tablespoons of ingredients.
Ingredients:
1 x 9 inch unbaked pastry shell
2 eggs
1 cup canned or pre-cooked pumpkin
½ cup brown sugar
2 tbsp all-purpose flour (plain)
1 tbsp pumpkin pie spice
1 can evaporated milk (approx 400ml)
½ cup chopped nuts (optional)
tbsp = tablespoon

Directions: Preheat your oven to 200°C (390°F).
Combine the pumpkin, milk, salt, flour, sugar and spice mix
Mix in the eggs and if using, the nuts, and pour into the pastry shell
Bake in the oven for 40-45 minutes
Insert a knife and if it comes out clean the pie is ready. Let cool and serve with a little whipped cream or some custard.
Cooking the Pumpkin...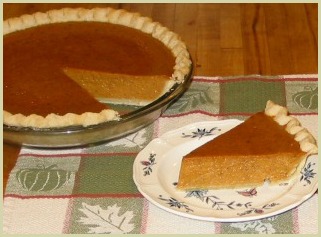 For this pie, you can use canned or pre-cooked. Here in the UK canned is not always readily available, so I usually cook all mine from scratch. It's fairly straightforward to do... 
Roasting: Pre-heat your oven to 180°C (350°F). Chop in half and remove the seeds. Place cut side down on a baking tray and place in your oven for 30-40 minutes, or until soft. Let cool and scoop out the flesh.
Boil or steaming: Chop in half, remove the seeds and peel. Slice into 1 inch (3 cm) chunks and steam or boil for 7-10 minutes, or until soft.
How ever you cook it, it's a good idea to mash or give it a quick blend to get rid of lumps and you get a smooth consistency.



---
---