Simple Homemade Spicy Vegetarian Pumpkin Curry Recipe
This quick and easy pumpkin curry recipe is always a favourite dish in my house. You can use any kind of pumpkin or squash, and it even works great if you make it with sweet potatoes or yams.
It's also completely vegetarian, and will satisfy meat eaters, veggies and vegans alike.
Spicy Pumpkin Curry Recipe
Ingredients: (makes 2 servings)
1 medium pumpkin or squash
2 medium onions (or 1 large)
2 red chilies (or more!)
1 inch (3cm) fresh ginger
3 cloves garlic
½ pint (300ml) water or vegetable stock
1 can chopped tomatoes (440ml)
1 tbsp turmeric powder
1 tbsp cayenne pepper
1-2 tsps mango powder (amchur)
1 tsp sugar
1 tsp cumin seeds
8 tbsp oil
2 tsp salt
½ cup fresh cilantro (coriander) leaves
tbsp = tablespoon
tsp = teaspoon
Directions:
Peel, remove the seeds and cut the pumpkin into bite size chunks. Set aside
Finely chop the onions, garlic, red chili and ginger root
Heat the oil in a large saucepan and lightly fry the above along with the cumin seeds for a few minutes
Add the pumpkin to the pan and lightly fry for another few minutes
Add the stock, tomatoes, sugar, turmeric, cayenne, mango and salt
Stir well and simmer on a low heat for 15-20 minutes, stirring now and again
Just before serving, stir in the chopped fresh cilantro (coriander)
I like to serve it with chapatis and plain boiled rice.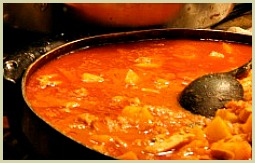 Note: I use fresh pumpkin for this recipe, but at a push you could use canned but the consistency wouldn't be the same although it would taste the same.

You'd lose the chunkiness and bite and it would probably be a bit runny.
Also, if you haven't got any amchur (mango powder) just leave it out, but the addition of a teaspoon or two and you do get that authentic Indian taste.



---
---