Pumpkin Cookies Recipe With
Sultanas & Coconut
These delicious pumpkin cookies can be made with either canned or pre-cooked pumpkin. You can also use any variety of summer or winter squash.
Note: If you were to use vegan margarine or similar substitute, these cookies are suitable for vegetarians and vegans.
Recipe For Puréed Pumpkin Cookies
Ingredients: (makes about 12 cookies)
2 cups all-purpose flour
¼ cup margarine
¼ cup canned or pre-cooked pumpkin
¼ cup sultanas (or raisins or currants)
2 tbsp agave nectar (or maple syrup)
1 tbsp pumpkin spice
1 tsp baking soda
1 tsp salt 
1 tsp vanilla extract 
1 tsp olive oil
Coconut flakes (optional)
tbsp = tablespoon
tsp = teaspoon
Directions:
Preheat your oven to 200°C (390°F) and lightly oil a baking sheet
In a large bowl mix together the flour, salt, baking soda and spice mix
In another bowl, mix together the puréed pumpkin, margarine, olive oil, vanilla extract, sultanas and agave or maple syrup
Add the pumpkin mix to the flour bowl and, with a fork, thoroughly mix together. When it gets stiff, use your hands to form into a ball
Flour your work surface and roll out the pastry to about a ¼ - ⅓ of an inch thick and with your pastry cutter or upturned glass, cut out 2 inch circles. Gather the scraps together and roll out and cut again
Using a spatula, gently pick up the pastry circles and place on the baking sheet. If using, sprinkle a few coconut flakes on each one
Place in your pre-heated oven and bake for 15 minutes until nice and golden.
Cooking Fresh Pumpkin...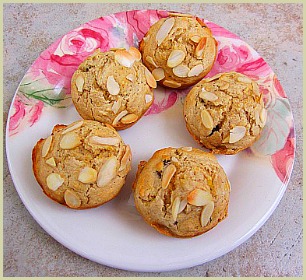 It's fairly difficult to get the canned stuff in the UK, so I always cook mine specially.
There are a few ways of doing this...
Chop in half, remove the seeds before placing in a pre-heated oven 180°C (350°F) for 30-45 minutes, or until soft. Let cool and scoop out the soft flesh.
Or again, chop in half remove the seeds and skin before cutting into 1 inch (3cm) chunks.
Then steam or boil for 7-15 minutes, or until soft.
Before you use it, a good idea is to mash or purée it first in a food processor or blender so it's smooth.



---
---