Growing Basil Herb For the Healthiest, Freshest Tastiest Leaves!
Growing basil is highly recommended. This tasty herb is a favourite in kitchens worldwide. And growing it yourself ensures a constant supply of the freshest, tastiest leaves.
There are many varieties to choose from; lemon, Thai, purple, cinnamon and sweet basil to name just a few that you could consider growing. Read more about the sweet variety.
Step-by-Step Tips on How to Grow Basil Herb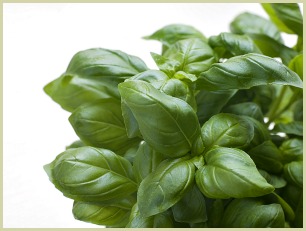 General Notes:
Suitable for the novice herb gardener, basil plants do best in a sheltered sunny position in rich, well draining soil.
Alternatively, it is just as at home in containers on a sunny patio or you can grow this herb in pots on a windowsill.
Note: As it's an annual herb, you'll have to plant or sow fresh plants each year. 
Ground Preparation:
About 1 month before planting out time, dig in some well rotted compost or manure into your herb bed.
Growing Basil From Seeds:
A few weeks before the average date of the last frost in your region...
Sow the seeds in pots or plug trays using a general potting compost. I sow 4-5 seeds in 2 inch (6cm) pots.
Water and place pots/plugs in a warm place (above 55°C). After about 2 weeks they should have germinated
Once germinated, keep the soil moist. Try and water in the morning or midday, not in the evening. This herb doesn't like being cold and wet!
When the seedlings have 5 true leaves, and the last frost date has passed, you can plant out 5-6 inches (18-20cm) apart in a sunny spot in well draining, fertilized soil. Again only water at midday or in the morning
Growing Basil Outdoors:
You can sow seeds, grow seedlings or bought plants in rich, well draining soil in a sunny spot.
After the last frost, thinly sow seeds in rows 12-16 inches (30-40cm) apart and a ¼ inch deep. When large enough to handle, thin out to 6-8 inches apart.
Growing Basil in Containers:
This herb loves large pots or containers, I find I get healthier, larger plants than in the ground...
Fill your pots/containers with a standard well draining potting compost
Site them in a sunny spot, a patio is ideal, and plant seedlings or cuttings
Keep the soil moist, don't over water
It also thrives in pots on a sunny windowsill.
Pests and Diseases:
The plants are prone to pythium wilt (damping off) if they get over crowded or too wet. To prevent this, sow seeds thinly in pots or plugs. Keep the soil moist and water around midday, don't over water.
Keep an eye out for slugs.
If you get whitefly or greenfly, treat with a horticultural soap solution.
Harvesting Basil:
After about 8-10 weeks it should be ready for you to harvest a few leaves.
It's best to pick young leaves from the top of the plant as this will encourage new growth. And better to have several plants so you don't over pick one.
Note: You can use the leaves to make a healthy drink. Click here for my recipe.
Basil Plant Care:
Early spring: Sow seeds indoors. Spring: After last frost, plant cuttings, young plants or seedlings into herb bed or containers. Summer: Pinch out the tips of the plants to prevent flowering and to encourage new growth. Autumn: If you have let them flower, harvest the seeds. Late Autumn: Bring pots inside so you have leaves to pick through winter. Winter: Dig compost/manure into next years bed.
Return to the main Growing Herbs page.



Image Links to Other "How to Grow Herbs" Pages You May Enjoy

Return to Basil Herb

Return to Home
---
---