>

Contents:

1. Spice Mix Of The Month "Mixed Pickling Spice Recipe"

2. Facebook

3. My Book

4. Your Recipes

5. Build Your Own Website
---
"Don't eat anything your great-grandmother wouldn't recognize as food."  ~Michael Pollan.
Mixed Pickling Spice Recipe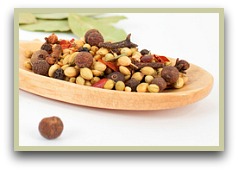 Ingredients: (makes about 8 tbsp)
This home made pickling spice mix is quick and easy-to-make and is ideal if pickling fruit and vegetables is a hobby of yours.
10 bay leaves
2 tablespoons yellow mustard seeds
2 tablespoons peppercorns
1 tablespoon coriander seeds
1 tablespoon allspice berries
2 teaspoons dill seeds
1 teaspoon dried red pepper flakes
1 cinnamon stick
6 cloves
Directions:
Crumble the bay leaves, break up the cinnamon stick and chop the dried ginger into smaller pieces.
Add all the spices to a muslin bag or a square of cheesecloth tied at the corners to make a parcel ready for your pickling.
To use your spices, there is a recipe for pickled red cabbage here.


---
Facebook
If you're into Facebook visit my new Facebook page where you get updates of new recipes and other tips and info to do with herbs and spices.
---
My Tea Book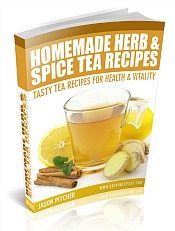 This is my new recipe book for making herb and spice tea.


---
Share Your Recipes
If you have a recipe using herbs and spices you'd like to share with the world on your own web page, you can do that here on the...
---
Pass It On!
If you like this e-zine, please do a friend and me a big favour and "pay it forward."
If a friend DID forward this to you and if you like what you read, please subscribe by visiting...
---
Build a Website & Earn Money!
Would you like to build your own website?
Maybe you have a hobby, knowledge to share or even make things you'd like to sell.
A year ago I had no idea about building a website. And now I'm sharing my herbs and spices knowledge and earning a few extra dollars along the way!
Have a quick look at these links below, and don't worry if you know nothing about website building. I certainly didn't...
http://buildit.sitesell.com/success220.html
http://specialprize.sitesell.com/success220.html
http://first-day-of-the-rest-of-your-life.sitesell.com/success220.html
---

Until next month,
Jason - Bespoke Spices
---