>

Contents:

1. Spice Recipe Of The Month "Jamaican Curry Powder Recipe"

2. Your Recipes

3. Build Your Own Website

4. Comments? - Ideas?
---
"If more of us valued food and cheer and song above hoarded gold, it would be a merrier world"  ~J R R Tolkien
---
Jamaican Curry Powder Recipe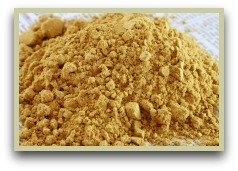 Whilst for maximum flavour when making your blends, I usually advise using whole spices, sometimes this is not always practical or you may not have them available. In these cases it's perfectly fine to use pre-ground spices.
Instructions: (makes about ½ a cup)
5 tbsp coriander seeds
3 tbsp cumin seeds
1½ tbsp garlic powder
1½ allspice berries
1 tbsp turmeric
1 tbsp fenugreek seeds
1 tbsp ground ginger
1 tbsp chilli powder (more if you like heat)
1 tbsp black peppercorns
1 tbsp thyme
2 inch piece cinnamon
10 cloves
5 star anise (optional)
1½ tsp sea salt (optional)
tbsp = tablespoon
tsp = teaspoon
Directions:
Lightly roast the coriander, cumin, peppercorns, cloves, fenugreek and allspice berries. Let these cool and grind along with the star anise and cinnamon stick. See cooking with spices for photos and tips on this.
This curry powder is best stored in an airtight jar out of direct sunlight. This blend will last for a while, but I prefer to make a fresh batch every few months.
Click for some Indian style curry powder recipes.
---
Share Your Recipes
If you have a recipe using herbs and spices you'd like to share with the world on your own web page, you can do that here on the...
---
Build a Website & Earn Money!
Would you like to build your own website?
Maybe you have a hobby, knowledge to share or even make things you'd like to sell.
6 months ago I had no idea about building a website. And now I'm sharing my herbs and spices knowledge and earning a few extra dollars along the way!
Have a quick look at these links below, and don't worry if you know nothing about website building. I certainly didn't...
http://buildit.sitesell.com/success220.html
http://specialprize.sitesell.com/success220.html
http://first-day-of-the-rest-of-your-life.sitesell.com/success220.html
---
Comments? Ideas? Feedback?
I'd love to hear from you. Just use the contact form and tell me what you think.
---
Free Spice Mix E-book
This is a free spice mix e-book I put together to thank new subscribers. It wasn't ready for earlier subscribers. So if you haven't a copy you can download one here...
https://www.bespokespices.com/support-files/spice-blends-from-around-the-world.pdf
Please pass a copy to your friends and anyone who loves great tasty food without artificial colours, flavourings or preservatives.
---
Pass It On!
If you like this e-zine, please do a friend and me a big favour and "pay it forward."
If a friend DID forward this to you and if you like what you read, please subscribe by visiting...
---
Until next month,
Jason - Bespoke Spices