>

Contents:

1. Spice Recipe Of The Month "Homemade Mulling Spices Recipe"

2. Recipe - Mulled Wine Recipe

3. Build Your Own Website

4. Your Recipes

5. Comments? - Ideas?

6. My Pumpkin Book
---
"Nothing would be more tiresome than eating and drinking if God had not made them a pleasure as well as a necessity"  ~Voltaire
---
Homemade Mulling Spices Recipe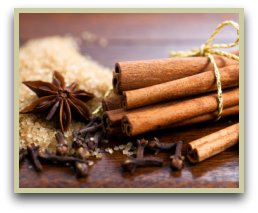 On these cold winter nights what could be nicer than a warm glass of red wine?
Ingredients: (makes about 8 tbsp)
2 tbsp star anise (cracked)
1½ tbsp allspice berries
15-20 green cardamom pods
2 tbsp fresh ginger (grated)
1 tsp whole cloves
2 cinnamon sticks (broken into smaller pieces)
Zest of 1 orange
½ tsp brown sugar (optional)
tbsp = tablespoon
tsp = teaspoon
Directions:
Combine all the dry spices and optional sugar and place in a cheesecloth square. Bring the corners together and tightly tie the ends with cotton so you have a sealed parcel.
Mulled Wine Recipe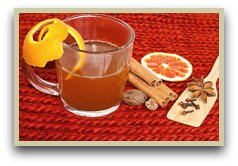 Ingredients:
1 bottle red wine
2 tbsp mulling spices in cheesecloth parcel
Directions:
Slowly heat your bottle of wine to a simmer, add the mulling spices parcel, fresh ginger and orange and simmer for 20-25 minutes. Scoop out the spices and ginger and drink hot or warm. Enjoy!
If you want to spice up more than a single bottle of wine increase the quantities in your cheesecloth parcel accordingly. I generally use 2 tbsp of mulled spice per bottle.
---
Build a Website & Earn Money!
Would you like to build your own website?
Maybe you have a hobby, knowledge to share or even make things you'd like to sell.
A year ago I had no idea about building a website. And now I'm sharing my herbs and spices knowledge and earning a few extra dollars along the way!
Have a quick look at these links below, and don't worry if you know nothing about website building. I certainly didn't...
http://buildit.sitesell.com/success220.html
http://specialprize.sitesell.com/success220.html
http://first-day-of-the-rest-of-your-life.sitesell.com/success220.html
---
Share Your Recipes
If you have a recipe using herbs and spices you'd like to share with the world on your own web page, you can do that here on the...
---
Comments? Ideas? Feedback?
I'd love to hear from you. Just use the contact form and tell me what you think.
---
Free Spice Mix E-book
This is a free spice mix e-book I put together to thank new subscribers. It wasn't ready for earlier subscribers. So if you haven't a copy you can download one here...
https://www.bespokespices.com/support-files/spice-blends-from-around-the-world.pdf
Please pass a copy to your friends and anyone who loves great tasty food without artificial colours, flavourings or preservatives.
---
Pass It On!
If you like this e-zine, please do a friend and me a big favour and "pay it forward."
If a friend DID forward this to you and if you like what you read, please subscribe by visiting...
---
My Pumpkin Recipe Book
I've written a virtual book with over 30 pumpkin recipes you may enjoy. It's full of both sweet and savoury pumpkin dishes.
Here's What You Get...
2 Pumpkin Pie Recipes

2 Pumpkin Soup Recipes

2 Pumpkin Cheesecake Recipes

Muffins & Cookies Recipes

Curry & Casserole Recipes

Recipes For Pumpkin Coffee & Pumpkin Smoothie

Pumpkin Bread & Cake Recipes

Recipe For Pumpkin Hummous
Pumpkin Scrambled Eggs
All This For Only $7! With a 100% no questions asked money back guarantee if not completely satisfied.

See the Pumpkin Recipe Page for more details and info.
---
---
Until next month,
Jason - Bespoke Spices