>

Contents:

1. Spice Recipe Of The Month "Homemade Chili Powder"

2. Build Your Own Website

3. Your Recipes

4. Comments? - Ideas?
---
"If more of us valued food and cheer and song above hoarded gold, it would be a merrier world.  ~ J.R.R. Tolkien
---
Homemade Chili Powder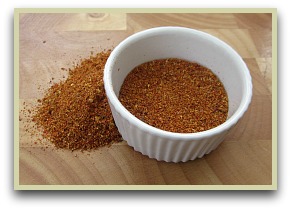 This simple chili powder recipe is sooo much better than the bland, lifeless powders you buy at the store. Unlike commercial blends you control the ingredients and quantities. And it's free of additives, artificial colours and preservatives!
Ingredients: (makes about 8 tbsp)
½ cup dried chili peppers (about 20)
OR ¼ cup chili flakes
2 tbsp cumin seeds (or 1½ tbsp ground)
1 tbsp garlic powder
1 tbsp dried oregano
1 tbsp smoked paprika (or normal paprika)
2 tsp onion powder
1 tsp sea salt optional
tbsp = tablespoon
tsp = teaspoon
Directions:
Using a coffee grinder, grind the whole peppers (or flakes) and the whole cumin seeds if you used them. Combine well with the garlic, paprika, onion powder and dried oregano.
Store in an airtight jar out of direct sunlight. This chili seasoning will last for a long time, though I try to use it within 3-6 months before making a fresh blend.
Like most of my spice blends on this site I strongly recommend you lightly roast your spices first.
This roasting greatly releases their flavour, essential oils, and powerful aromas. See my cooking with spices page for photos and tips on this.
---
Build a Website & Earn Money!
Would you like to build your own website?
Maybe you have a hobby, knowledge to share or even make things you'd like to sell.
A year ago I had no idea about building a website. And now I'm sharing my herbs and spices knowledge and earning a few extra dollars along the way!
Have a quick look at these links below, and don't worry if you know nothing about website building. I certainly didn't...
http://buildit.sitesell.com/success220.html
http://specialprize.sitesell.com/success220.html
http://first-day-of-the-rest-of-your-life.sitesell.com/success220.html
---
Share Your Recipes
If you have a recipe using herbs and spices you'd like to share with the world on your own web page, you can do that here on the...
---
Comments? Ideas? Feedback?
I'd love to hear from you. Just use the contact form and tell me what you think.
---
Free Spice Mix E-book
This is a free spice mix e-book I put together to thank new subscribers. It wasn't ready for earlier subscribers. So if you haven't a copy you can download one here...
https://www.bespokespices.com/support-files/spice-blends-from-around-the-world.pdf
Please pass a copy to your friends and anyone who loves great tasty food without artificial colours, flavourings or preservatives.
---
Pass It On!
If you like this e-zine, please do a friend and me a big favour and "pay it forward."
If a friend DID forward this to you and if you like what you read, please subscribe by visiting...
---
My Pumpkin Recipe Book
I've written a virtual book with over 30 pumpkin recipes you may enjoy. It's full of both sweet and savoury pumpkin dishes.
Here's What You Get...
2 Pumpkin Pie Recipes

2 Pumpkin Soup Recipes

2 Pumpkin Cheesecake Recipes

Muffins & Cookies Recipes

Curry & Casserole Recipes

Recipes For Pumpkin Coffee & Pumpkin Smoothie

Pumpkin Bread & Cake Recipes

Recipe For Pumpkin Hummous
Pumpkin Scrambled Eggs
All This For Only $7! With a 100% no questions asked money back guarantee if not completely satisfied.

See the Pumpkin Recipe Page for more details and info.
---
---
Until next month,
Jason - Bespoke Spices