Hi
Contents:
1. Spice Mix Of The Month "Pumpkin Pie Mix"
2. New website
3. Book
4. Build Your Own Website
---
"If God had intended us to follow recipes, He wouldn't have given us grandmothers."  ~Linda Henley

Pumpkin Pie Mix
This is a simple blend of spices and is perfect for adding to all your puddings and desserts not just pumpkin pie.
Note: If you only have ground spices you can use those. Just reduce the amount you use by half.
Ingredients: (makes 4 tbsp)
3-4 inch piece of cinnamon stick
1 tbsp ground ginger
1 tbsp grated nutmeg
1 tbsp whole allspice berries
2 tsp whole cloves
tbsp = tablespoon
tsp = teaspoon
Directions:
Break up the cinnamon stick and, in your spice grinder or mill, grind along with the allspice berries and cloves
Sieve into a bowl
Mix in the ginger and nutmeg and store in an airtight jar out of direct sunlight
Use within 2-3 months
You can lightly toast the cloves and berries before grinding and mixing with the nutmeg and ginger.
Click here for "step-by-step" info and photos on toasting.
If you would like to see a slideshow of me making a pumpkin pie mix that uses mace instead of allspice, have a look at my youtube channel.
Click here to see the recipe on my website.
---
New Website
I have a new site which is focussed purely on herb and spice mixes you may enjoy.
---
My Spice Mix Book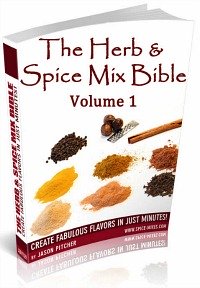 Here's a link to my recipe book for making spice mixes and blends.
---
Pass It On!
If you like this e-zine, please do a friend and me a big favour and "pay it forward."
If a friend DID forward this to you and if you like what you read, please subscribe by visiting...
---
Build a Website & Earn Money!
Would you like to build your own website?
Maybe you have a hobby, knowledge to share or even make things you'd like to sell.
A year ago I had no idea about building a website. And now I'm sharing my herbs and spices knowledge and earning a few extra dollars along the way!
Have a quick look at these links below, and don't worry if you know nothing about website building. I certainly didn't...
First Day of the Rest of Your Life
---

Until Next Month,
Jason - Bespoke Spices
---