Make Your Own Sausage Spice and Add Fab Flavours to Your Homemade Sausages and Burgers

Hi
---
14th March 2014 -- Issue #32
Table of Contents
1. My Facebook Page
2. Recipe of the Week - Make Your Own Sausage Spice
3. Top Tips on Toasting and Grinding Spices For Fab Flavours and Mouthwatering Aromas!
4. Recommended BBQ Recipe Book
5. Build a Website & Earn Money!
---
Facebook Page
To keep up to date with new recipes and herbs and spices info,
I have a Facebook page you may like...
---


Make Your Own Sausage Spice
For the home sausage maker, making your own sausage spice is highly recommended.
This is a quick and easy mix to make that will add fabulous flavours and mouthwatering aromas.
Ingredients: (makes about 6 tbsp)
2 tbsp fennel seeds
2 tbsp dried rosemary
1 tbsp coriander seeds (cilantro)
1 tbsp dried sage
1 tbsp dried basil
1 tbsp black peppercorns
2-3 tsp paprika
2 tsp chili powder
2 tsp sea salt
2 tsp garlic powder
1 tsp onion powder

tbsp = tablespoon
tsp = teaspoon
Directions:
Coarsely grind the coriander, fennel, rosemary, salt and peppercorns
Add to a bowl

Mix in the onion, garlic, paprika and chili powders
Crumble in the sage and basil. Mix thoroughly



Store in an airtight container out of direct sunlight. Use within 3 months.




---
How to Toast and Grind
A few people have asked how I toast and grind whole spices. It's really very easy...
Over a medium heat add your spices to a dry pan
Whilst stirring or shaking the pan; toast for a few minutes
When they start to darken and you can really smell their aromas, they're ready
Remove from the heat and let cool before grinding




---
The Ultimate Guide to a Delicious Backyard BBQ
By Oscar Orillia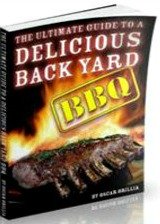 Here's a link to a BBQ book I recommend.
---




Build a Website & Earn Money!
Would you like to build your own website?
Maybe you have a hobby, knowledge to share or even make things you'd like to sell.
A year ago I had no idea about building a website. And now I'm sharing my herbs and spices knowledge and earning a few extra dollars along the way!
Have a quick look at these links below, and don't worry if you know nothing about website building. I certainly didn't...
First Day of the Rest of Your Life
---

Until Next Week,
Jason - Bespoke Spices
---