Pickling Spices - The Homemade Way of Preserving Your Tasty Veg
When putting together a pickling spices mix you can have a simple, straightforward recipe with 6-7 ingredients. Or if you're the adventurous cook, add as many of your favourite spices and herbs as you desire!
The one below is my staple recipe, and is a good all-round mix. But feel free to experiment, depending on what you're pickling; add or omit any ingredient you like or dislike.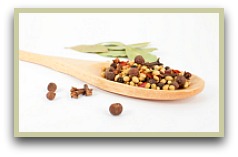 I usually pickle only my homegrown vegetables, my beets, shallots, gherkins, cauliflower and red cabbage. But there is so much more; carrots, garlic, ginger root and chili peppers to name a few.
Not to mention all the fruit you can use: apples, pears, plums etc.
This way of preparing food is ancient, and has been a way of preserving food for over 4000 years!
Homemade Pickling Spices Recipe
Note: If you have them available, use as many whole spices as possible. If you don't you can always swap some like the dried ginger or coriander seeds for pre-ground and add to your muslin/cheesecloth parcel.
Ingredients: (Makes about 10 tbsp)
10-15 dried bay leaves
2 inch piece dried ginger
2 tbsp yellow mustard seeds
2 tbsp peppercorns
1 tbsp mace blades
1 tbsp allspice berries
1 tbsp coriander seeds (cilantro seeds)
2 tsp dill seeds
1 tsp dried red pepper flakes
2 inch cinnamon stick
6 cloves
tbsp = tablespoon
tsp = teaspoon
Directions:
Crumble the bay leaves, break up the cinnamon stick and chop the dried ginger into smaller pieces
Add all the ingredients to a muslin bag or a square of cheesecloth tied at the corners to make a parcel
Just before using, it's a good idea to bash the parcel with a heavy object. This will crack and bruise the spices and release their flavours
Note: You can also just add the ingredients to the vinegar without the muslin/cheesecloth.



Mixed Pickling Spices Recipe - Red Cabbage
Now you have your recipe, what will you do with your mix?
My favourite is pickled red cabbage and the one I do often as I usually have a glut of cabbage left over at the end of October.
Ingredients:
1 large red cabbage
4 tbsp salt
2 pints malt vinegar (1.2 litres)
3-4 tbsp of the homemade pickling spices in cheesecloth (or loose)
Directions: Sterilize some jars and lids. Note: You need vinegar proof lids.
Quarter and finely shred your cabbage. Place in a bowl and sprinkle on the salt before mixing
Cover and leave for 6-8 hours (or overnight)
Using a colander, rinse off the salt
Add the vinegar and the mix to a large saucepan and bring to the boil
Turn off the heat and let cool leaving in the spices for 3-4 hours before removing them
Pack your shredded cabbage into the jars before filling with the spiced vinegar
Store in a cool, dark place for 2-3 weeks before using. Eat within 3 months.
Other Cooking Blends You May Enjoy
Return to Cooking Spices

Return to Home
---
---